WELCOME TO TRAILRIDERS

TRAILRIDERS horse trekking centre and riding stables, located 2kms south of the village of Ano Korakiana, was established in 1992 by British born Sally-Ann Lewis. She spent 10 years in Wyoming, USA, managing a cattle ranch, where she learned to ride and care for horses.

TRAILRIDERS is still owned and run by Sally 28 years later, fulfilling her dream of working with animals.

The stables are situated outside the beautiful south facing village of Ano Korakiana, in the north central area of the island. Nestled in the foothills of the Pantokrator mountain range, with its miles of farm tracks, the area is a haven for trekking on horseback. Thousands of olive trees and natural woodland provide ample shade even in the mid-day sun.

TRAILRIDERS has earned itself an enviable reputation for safety and enjoyment. The 6 horses are in perfect condition. Their quiet natures and good manners make them suitable for the complete beginner but are also spirited enough for the more advanced rider, ensuring a feeling of contentment and tranquility while riding on nature's most majestic animal: 'The Horse.'

Horseback riding is safer and more comfortable in long trousers, T-shirt and full shoe. We cater to people from the age of 8 to 70's.

The stable provides:

CORRECT CLOTHING (if necessary)

A GOOD SELECTION OF HARD HATS

PUBLIC LIABILITY INSURANCE

TRAILRIDERS is open year round

SUMMER RIDE TIMES - Monday, Tuesday, Wednesday, Thursday, Friday

10:00am-12:00noon 

(ride time approx. 1 1/2 - 2 hours)

16:00pm-18:00pm

(ride time approx. 1 1/2 - 2 hours)

SATURDAYS & SUNDAYS CLOSED

WINTER RIDING

Hourly treks or lessons

Usually Thursdays and Saturdays

SUNDAYS CLOSED

Ride times may vary early & late season. Availability is limited due to the popular ride time and the size of the groups. To avoid disappointment, a  reservation early in your holiday is essential. 

Please contact us direct, by phone or email.

trailriders corfu, trail riders corfu greece, horse trekking, horse riding, horse back riding, horseback riding, horse trekking in corfu, horse riding in corfu, horseback riding in corfu, horse back riding in corfu, trail riders, trail rides in corfu, trail rides in greece, horse stables, Greek horse stables, horse trail rides, horse rides for kids, horse rides for children, horses, horses in greece, horses in corfu, adventure travel, tourist activities corfu, horse travel, corfu countryside by horse, horse transport, horse training, horse stables in corfu, things to do in corfu, things to do with kids in corfu, things to do with kids on holiday, ano korakiana corfu, trail riders ano korakiana corfu greece, Sally Lewis,.pferde reiten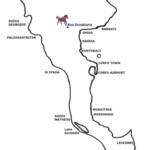 Click map to enlarge

Stables 2 kms south(lower) of the village ANO KORAKIANA.  

Please follow the signs to LUNA D'ARGENTO. We are behind this venue.

EXCLUSIVE FOR CRUISE SHIP CLIENTS

Flexible time schedule

Prices quoted to include transfers to and from stables

Extended riding months now available

13 Years

'Trip Advisor Certificate  

of Excellence'